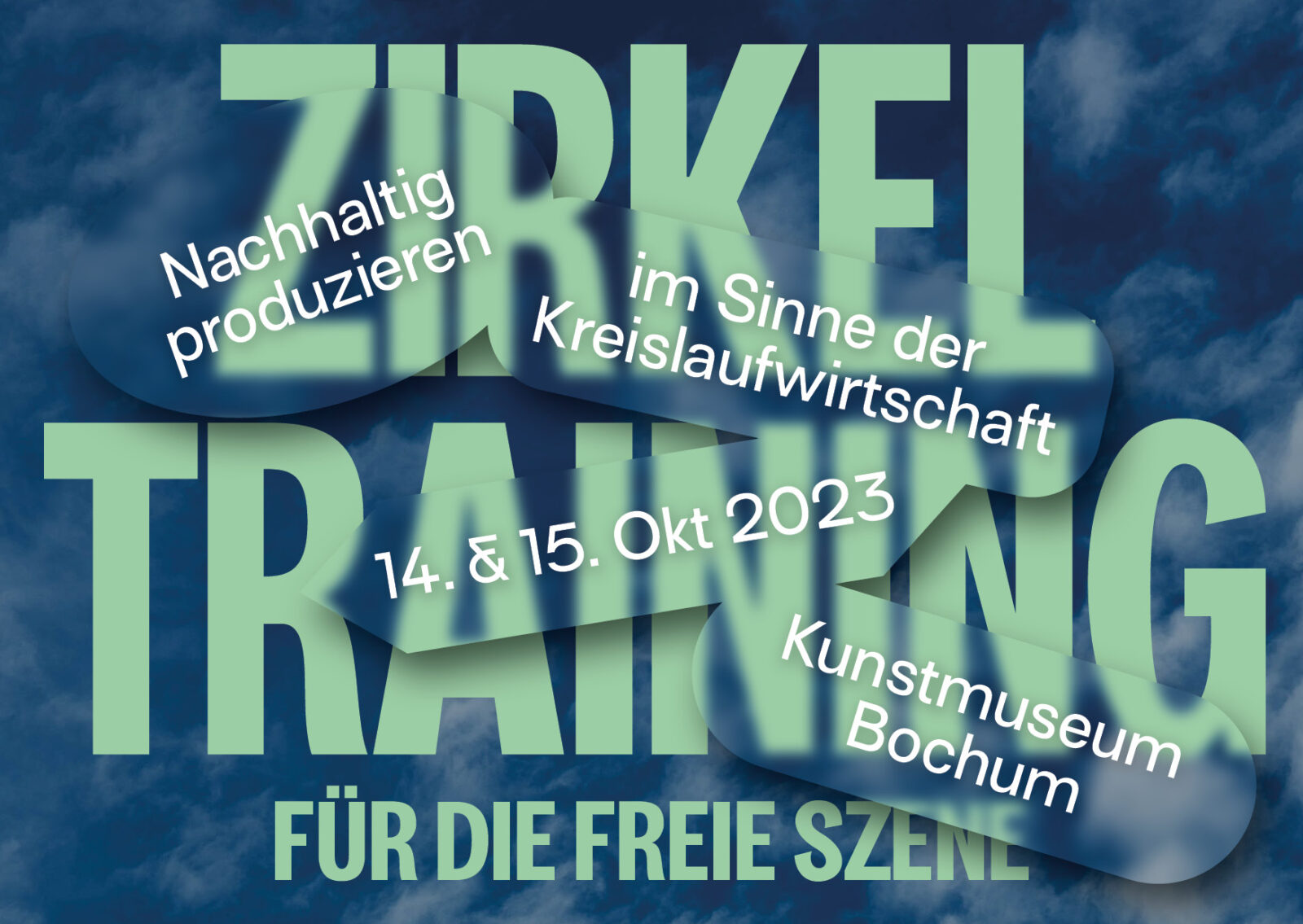 ZIRKELTRAINING FÜR DIE FREIE SZENE
Sustainable production in the sense of the circular economy
Save the Date: Sat., Oct. 14 and Sun., Oct. 15, 2023, each 10 a.m. – 5 p.m., Bochum Art Museum
With a FESTIVALFRIENDS LABORATORY
Network meeting of the material initiatives of NRW: October 14, 7 p.m., atelier automatique.
There are numerous opportunities for more sustainability in art and culture and many inspiring ideas and projects that are already being worked on: Material administrations, guides for sustainable producing, touring guides, upcycling and recycling concepts, nationwide networking offers, further education etc.. What all these projects have in common is that they want to actively make a difference and waste fewer resources – both material and immaterial.
The problem: many of these processes run in parallel and not only face similar hurdles, conflicts and questions, but also produce similar solutions and thought processes – from different perspectives. That's why we will come together to share and pool our resources in the form of knowledge and skills. Sustainability is a community sport!
The FAVORITEN Festival invites together with the AG: Ressourcen Teilen! and the ressourcerie automatique to a circuit training. During the weekend, together with experts, we will translate the concept of circular economy to the work in the independent performing arts, collect, exchange and discuss current challenges as well as solutions and get to know the different initiatives in NRW. In the parallel &FRIENDSLABOR, very practical aesthetics of sustainability will be tested with nationwide artistic perspectives. We will (un) learn diverse practices and train our transformation muscle in a very concrete way.
All actors of the independent performing arts (producers, scenographers, technicians, stage artists, etc.), representatives of festivals, production houses, funding institutions and administration are invited.
The possibility to register for free can be found here in August.
Share the information, invite and spread the word so that we ALL come together!
Die Möglichkeit zur kostenlosen Anmeldung findet Ihr hier: https://forms.gle/ZANbMzobqKjLyU8T9  Teilt die Information, ladet ein und verbreitet die Nachricht, damit wir ALLE zusammenkommen!
"Zirkeltraining für die Freie Szene" wird gefördert vom NRW KULTURsekretariat Wuppertal. Das &FRIENDSLABOR wird gefördert von FESTIVALFRIENDS. FESTIVALFRIENDS wird ermöglicht im Rahmen des Programms "VERBINDUNGEN FÖRDERN" des Bundesverbands Freie Darstellende Künste, gefördert von der Beauftragten der Bundesregierung für Kultur und Medien.